Migraine Medication Update: 2016
Marshall C. Freeman, MD, FAHS
Open the original article – PDF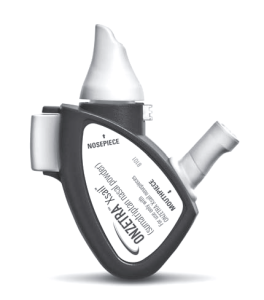 Over the past year there have been a number of additions to the migraine medication toolbox.  All of the products described below use sumatriptan, the first and still most frequently prescribed triptan medication for migraine. This article will describe the newest medications that have become available and briefly review some background, safety, and side effect profile of sumatriptan.
Onzetra Xsail (Avanir Pharmaceuticals).  Onezetra Xsail is the newest migraine treatment commercially available.  It was introduced in May 2016.  Onzetra Xsail (pronounced "exhale") is sumatriptan powder that is blown by the patient directly into the nose.  A small nosepiece containing sumatriptan powder is locked into place in a plastic device which
is then placed in one nostril.  There is a separate soft flexible blower attached to the device oriented to allow the patient to comfortably blow by mouth into the device to deliver the powder into the nose.  This procedure is performed twice, once for each nostril. A total dose of 22 mg of sumatriptan (11 mg per nosepiece) is delivered by the treatment.  Our office participated in the clinical trials for this medication and most subjects found the treatment to be well-tolerated.  The most common side effects from Onzetra Xsail included abnormal taste and mild nasal discomfort.  The medication was highly effective.  According to the results of the published studies 34% of subjects were pain-free two hours after treatment, while 68% of subjects had improvement in their migraines after two hours.  This formulation may be appropriate for those patients who are unable to swallow pills due to nausea or vomiting, or for those who want to avoid self-injecting sumatriptan.  Onzetra Xsail is available at your local pharmacy.  The company is providing discount coupons to reduce the cost of the medication.
Zembrace Symtouch (Promius Pharma, Dr. Reddy's Laboratories).  This is a sumatriptan product reformulated by Promius Pharma which became available in January 2016.  The original sumatriptan (Imitrex) injection was introduced to the public in 1992. This was the first triptan medication available and heralded a new chapter in highly effective, disease-specific migraine treatments.  The original sumatriptan injection is a self-administered 6 mg dose prefilled syringe cartridge which is still available and remains the most frequently prescribed migraine injectable medication.  Zembrace Symtouch contains the identical medication, but has modified the device and reduced the dose to 3 mg per treatment.  The newly introduced Zembrace Symtouch is a single unit, two-step, self-contained auto-injector which is used once then discarded.  It is easier to use than the original Imitrex injection (since it is pre-filled), but less effective for migraine headaches.  According to data from the package insert migraine relief at 30 minutes was achieved in 47% of Zembrace (3 mg) subjects versus 63% of Imitrex (6 mg) subjects.  At 60 minutes migraine relief was achieved in 57% of Zembrace (3 mg) subjects versus 73% of Imitrex (6 mg) subjects.  The side effect profile was slightly less in the lower 3 mg group (77%) compared to the 6 mg group (83%).  At this time it is difficult to recommend Zembrace over the less expensive and generic sumatriptan injection, as the efficacy is lower and the side effect profile is only marginally better. Zembrace Symtouch is available from your local pharmacy and discount coupons are currently available.
Of note, two other non-generic sumatriptan self-injection products have been available for the past few years..  Sumavel DosePro (Endo Pharmaceuticals) is the first "needle-free" injection for migraine headache treatment.  The active ingredient is the same 6 mg sumatriptan, but the novel needle-free device provides a delivery system for those patients who are needle-phobic.  The Sumavel DosePro system uses a highly pressurized nitrogen gas chamber to push the medication directly into the skin and subcutaneous space.  The needle-free treatment may still be uncomfortable and the device makes a loud "popping" sound when used.  Because there is no needle, the used device can be thrown away in the trash without concern for medical waste disposal.
Alsuma (Pfizer) is another identical sumatriptan 6 mg self-injection housed in a redesigned auto-injector.  This auto-injector is less intuitive to use than the other products.  Like the Imitrex injection and Zembrace Symtouch, Alsuma contains a small micro-needle.  Disposal of used medical products should be done following directions from the manufacturer or local regulations.
Zecuity (Teva Pharmaceuticals).  As of this writing Zecuity has currently been placed on hold by the manufacturer.  Zecuity was introduced to the market in September 2015.  It is a sumatriptan iontophoretic transdermal patch.  It uses the same medication as Imitrex (tablets, nasal spray, and injections), but in a battery-powered patch delivery system.  Our center was involved in the original clinical trials for this product, The Zecuity patch is FDA-approved for the treatment of migraine headache with or without aura.  The patch can be placed either on the arm or the leg and is worn for four hours.  A small battery is turned on by the patient and assists in the delivery of the medication through the skin.  This particular formulation may be most appropriate for those patients who experience significant nausea or vomiting (precluding successful use of an oral tablet) or for those who do not tolerate oral, nasal, or injectable sumatriptan due to triptan side effects.  The patch is comparably effective to Imitrex (sumatriptan) tablets.  Most migraine experts prescribe the patch as an additional treatment option for their patients and not as a replacement for their other migraine medications.  It should not be combined with any other triptan migraine medication (such as Maxalt or Zomig).  Zecuity is only available through a specialty pharmacy and is mailed directly to the patient by the manufacturer.  As of this writing, the company has voluntarily suspended the sale, marketing, and distribution of Zecuity due to unexpected skin reactions from the patch.  These reactions have been described as skin redness, cracking, blistering, "burns," and "scars."  The company has asked patients to stop using the product and they will refund any co-pay costs to the patient.
SUMATRIPTAN SAFETY AND SIDE EFFECTS  As mentioned above, sumatriptan injection was the first migraine-specific acute medication.  Over the past twenty-five years sumatriptan products have fundamentally altered the landscape of migraine treatment.  Multiple formulations of sumatriptan are available including injections, nasal sprays, nasal powders, tablets, patches, and suppositories.  While highly effective for a majority of migraine patients, not all individuals are candidates for sumatriptan.  Sumatriptan and other triptans should be avoided in those individuals with coronary artery disease, myocardial infarction, peripheral vascular disease, stroke or transient ischemic attack (TIA).  For those individuals who are safe candidates for sumatriptan and other triptans, side effects may still develop.  Some of the side effects are dependent on the route of delivery: an injection may cause pain, redness, or swelling at the injection site, while a nasal product may cause nasal itching, nasal discomfort, or nasal drainage.  Triptans may also cause chest pressure, chest or throat tightness, flushing, feelings of heaviness, and dizziness.  If you experience any side effects with these medications make certain to inform your physician.
Marshall C. Freeman, MD, FAHS is the director of Headache Wellness Center (HWC) in Greensboro, NC.  He is a board-certified neurologist in Adult Neurology, Neuromuscular Medicine, and Electrodiagnostic Medicine.  He holds specialty certification in Headache Medicine by the United Council of Neurological Subspecialties and is a Fellow of the American Headache Society.  HWC is the oldest and longest continuously operating headache specialty practice in North Carolina, serving the headache population since 1990.  Dr. Freeman is currently accepting new adult and pediatric patients.  Please contact our office if you are interested in our migraine studies.